Chemical regulation in the EU is comprehensive and there are several pieces of legislation (both Directives and Regulations) covering different aspects of this to be aware of, below is a non-exhaustive list of some key legislation:
REACH – General chemical regulation, broadly applying to all chemical substances
CLP – Dealing with the classification and labelling of substances and mixtures according to GHS
BPR – Biocidal Products Regulation to cover both active substances and formulated products
PPP – Plant Protection Products Regulation
Others include: Chemical Agents Directive (CAD) and Carcinogens and Mutagens Directive (CMD), Prior Informed Consent (PIC) Regulation, Waste Framework Directive (WFD), Persistent Organic Pollutants (POP) Regulation.
For the remainder of this page we go into a little more detail on the REACH and CLP Regulations.
Now the UK has left the EU and is currently in a BREXIT transition period, with potential divergence from EU regulation at the end of the year, discussion of proposed UK legislation is located on a separate page.
REACH

The REACH regulation came into force on 1st June 2007 and included concepts such as pre-registration, the "one substance – one registration" principle, Substance Information Exchange Fora (SIEF), data sharing and reduction in animal testing. The regulation has presented many new challenges for both industry and regulators within the EU/EEA.
It has now been in force for over twelve years, the initial phase-in periods for pre-existing chemicals have all passed and both the regulatory authorities and registrants have learnt much about using and working with REACH over the years.
Every actor in the supply chain of a chemical substance, mixture or article may be affected by REACH directly or indirectly so it is worth understanding what REACH means for your company – and that is how BCS can help.

Every actor in the supply chain of a chemical substance, mixture or article may be affected by REACH directly or indirectly so it is worth understanding what REACH means for your company – and that is how BCS can help.

REACH places an obligation on manufacturers and importers (or Only Representatives) to register their substance under REACH before they manufacture or place on the market above 1 tonne per annum. The registration process starts with a prior-registration inquiry (PRI) to the European Chemicals Agency (ECHA) to check for other registrants of the same substance, leading to data-sharing with other registrants or the generation of the information requirements laid down in the Annexes of REACH. Submitted registration dossiers can then be subject to Dossier Evaluation by ECHA and it is therefore important to keep REACH registrations up-to-date after they have been submitted.

REACH is continually evolving, with five yearly reviews built into the Regulation (Article 138), additional implementing regulations to clarify certain aspects (e.g. data-sharing, cost-sharing by co-registrants, changes to information requirements under the Annexes of REACH) and changing guidance issued by ECHA. It is a challenge for companies to continually assess their status in term of REACH and to maintain their compliance with the Regulation.


REACH registration process: Interactions with the European Chemicals Agency (ECHA)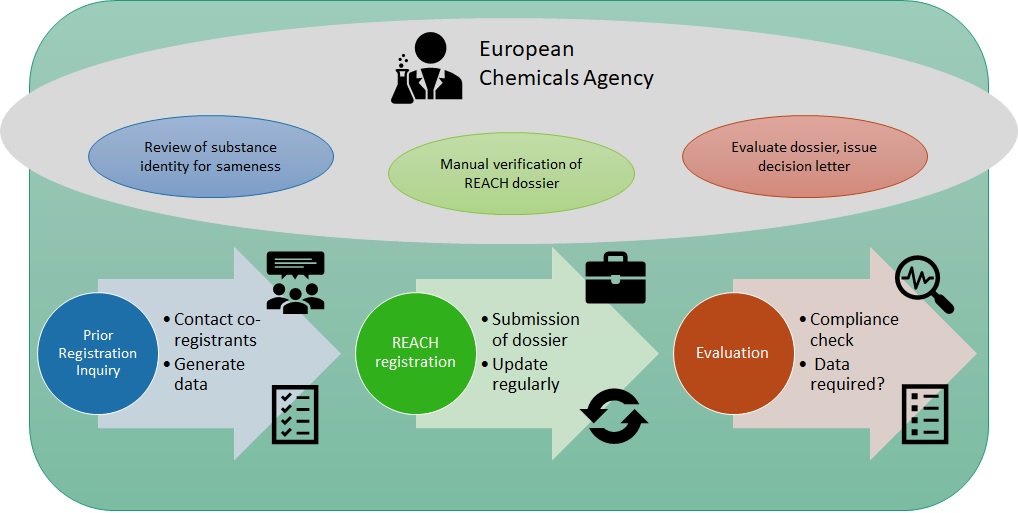 The CLP regulation came into force in 2008. This regulation is based on the principles of the UN Global Harmonisation System (UN GHS) also known as the "purple book" to harmonise classification and labelling worldwide. The CLP regulation requirements have been phased in over the last seven years and has replaced the Dangerous Substance Directive and Dangerous Products Directive for classifying and labelling substances and mixtures respectively.

Like most EU chemical regulations, the CLP regulation is frequently updated. CLP updates are in the form of ATPs which will apply new principles of UN GHS adopted into EU law and to update chemical substance lists in Annex VI of CLP where mandatory harmonised classification and labelling must be applied.

All substances and mixtures must comply with the CLP regulation when preparing Safety Data Sheets and Labels.



CLP notifications

When placing a substance (or mixture) on the EU market for the first time you have to consider whether a CLP notification will need to be submitted to the European Chemicals Agency (ECHA).

Companies have 1 month after placing on the market to submit the required information (as stated in the CLP regulation) to ECHA via their REACH-IT system


Poison centre notifications

Harmonised reporting of hazardous mixtures to poison centres is driven by Article 45 of the CLP Regulation with full details on how to perform this and deadlines in Annex VIII. Essentially certain mixtures classified as hazardous for human health or physical effects will need to be notified to relevant poison centres in EU/EEA Member States (MS) where they are being placed on the market.
Substances on their own and non-hazardous mixtures are out of scope of these requirements as are articles (although all products should be assessed on a case-by-case basis).
Generally, EU importers and downstream users (including repackagers, refillers, formulators and toll formulators) have direct obligations under CLP Article 45 to submit the necessary information. Distributors must also ensure that mixtures they place on the market are compliant with the CLP Regulation.
Compliance dates are detailed in CLP Annex VIII as 1 January 2021 for consumer and professional uses and 1 January 2024 for industrial uses. If a mixture has been notified nationally prior to these dates the deadline becomes 1 January 2025 unless you need to make updates to the notifications beforehand.
If you want to know more about REACH and/or CLP regulation and how this may affect you company, please contact us by phone, email or using the contact form on this website.